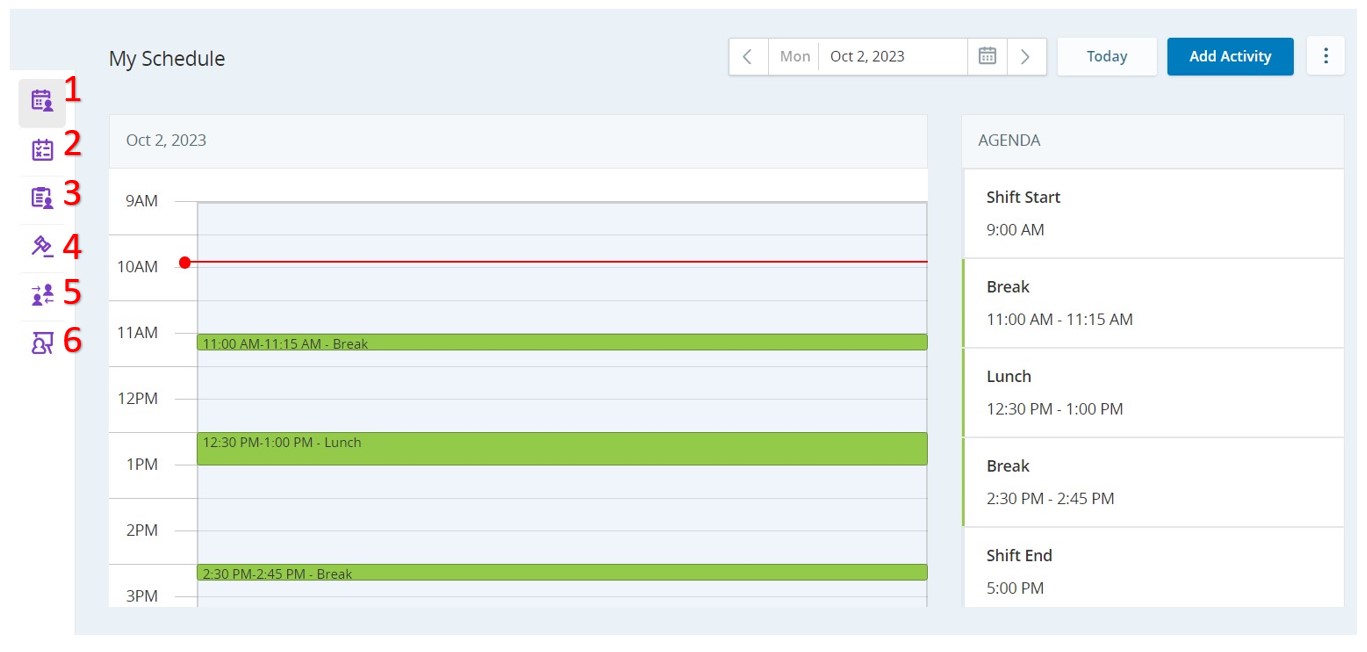 You'll be notified when your manager has a new schedule for you. The new schedule will appear on the My Schedule page in My Zone. You can filter your schedule based on a date or an agenda and view the schedules of other employees.

Trade a Shift:

You can trade a full-day or partial-day shift. Different options for trading a shift are available based on your organization's configuration.
You can view the status of your request here. The request status you can see based on the action performed on your request:

Pending: Request pending action by the supervisor.
Approved: Request approved by the supervisor.
Declined: Request declined by the supervisor.
Discarded: This status is related to the schedule change request. If an agent has a pending request and the schedule gets changed, the request is discarded, and the agent is notified.
Canceled: Request canceled by an agent before approval by the supervisor.
Canceled-Approved Request: Approved time-off request canceled by an agent.
Your managers can create weekly shift patterns for you to bid on. These are combinations of shifts for possible weekly schedules. Each possible weekly schedule is made up of a collection of different shifts. You can bid on which schedule you want the most.
Evaluations of your interactions appear in the Evaluations page. Depending on the evaluation definitions, you can see your evaluation score/rank, acknowledge that you've received the evaluation, or even dispute the evaluation if necessary.
All your interactions from the last 24 hours appear in the Recent Interactions page. You can also view your interactions from the last 7 days, 30 days, and 90 days.
You can see any coaching packages sent to you by your manager in the Coaching page.